Just stop and enjoy, take a deep breath. You can relax and enjoy the lovely views in a pleasant climate. With sea breeze all around, you will also love the luxury we offer.
The Hotel Tri Sea is a comfortable hotel ideally located in the heart of Kanyakumari, very near to beach and few minutes from the Kanyakumari Bus Terminus. Our unique and key feature is that we offer all amenities to suit ones needs. We provide instant reservation with all comforts. There is a lounge area with comfortable chairs and soothing music. Enjoy the sunrise & sunset from the room. We hope you would have a pleasant stay here and enjoy the offers during you reside. There's no time to be bored in a world as beautiful as this.
In all things in nature, there is something marvellous.
The Sea View is an amazing, just listening to the sound of the waves, feeling the cool breeze across my face and it feels so relaxed, peaceful and completely free as though, I am in a magical place so calm and beautiful.
It's a home away from home.
Luxury accommodation completely redesigned individual, elegant and refined, our rooms offer the ultimate in comfort and luxury in Kanyakumari. Each room at the Hotel Tri Sea, offering its own unique welcoming atmosphere to make you feel welcomed.
We're all in this together.
Well-equipped conference and meeting rooms are an indispensable part of any premium hotel. They provide important amenities such as a well-furnished business centre, Spacious conference halls for larger events and Banquet halls for official parties.
The restaurant atmosphere encompasses everything from tangible elements like the decor and lighting to experiential factors such as the quality of service and the conveniences you offer. Good customer service binds our hotels – being friendly, available, attentive and quick to take care of customers' needs.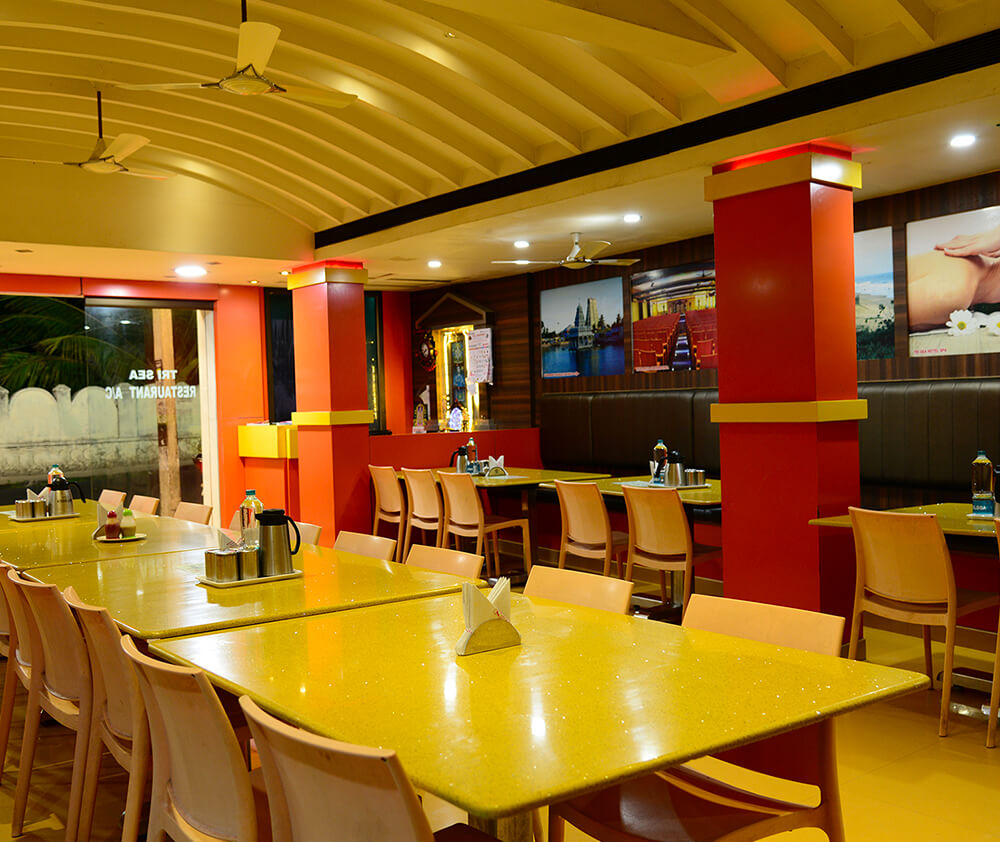 Hotel Tri Sea has opened its doors to best hospitality. A vacation is enjoyable only when you know where you are going to stay for the specific period. Chilling out on the bed in your hotel room is sometimes the best part of a vacation. Ideal for business or leisure, the hotel offers Wi-Fi and smartly designed work areas in each room. Our rooms & suites offer an inspiring environment. The spacious windows let the sunlight in and provide breath-taking views of Kanyakumari.
Count the Memories not the Calories
Enjoy the taste of Heaven.
The hotel's cuisine is our pride and joy. Good food is directly proportional to the good life. Meals have variety and taste, both at its best. The pleasure of finding good food to eat hits differently. People who love to eat are always the best people.
Amenities are provided for people's convenience, enjoyment, or comfort. Relax and take in the abundance of life. Building a strong level of guest loyalty starts by providing excellent service well before guests begin their stay.
A good restaurant is like a vacation; it transports you, and it becomes a lot more than just about the food.
Swimming Pools are a source of fun, relaxation, and entertainment for guests. They offer great features for recreational activities both adults and children can enjoy.
A conference hall is a room provided for singular events such as business conferences and meetings.
The primary focus of Spa is to provide relaxation, personal care, and non-invasive beauty treatments.
A tourist attraction is a place of interest that tourists visit, typically for its inherent or an exhibited natural or cultural value, historical significance, natural or built beauty, offering leisure and amusement.